Executive Summary
The new three-year strategic plan articulates four focus areas, six goals andkey strategies that the Childhood Arthritis and Rheumatology ResearchAlliance (CARRA) will accomplish over the course of this plan. CARRA hasmade great strides implementing its plans in the past and this new strategicplan will help the organization focus its efforts over the next three years.
The areas of focus are:
Achieving Research Excellence
Leveraging Community Engagement
Ensuring Organizational Excellence
Embracing and Advancing Diversity, Equity, Inclusion and Accessibility
This plan has been developed to build on progress that has occurred in important areas such as research and the registry and to increase the effectiveness and reach of programs through more informed and engaged members, patients/caregivers, staff and partners to strengthen CARRA's capacity to realize its mission.
The goals of the strategic plan are undergirded by several main principles that were developed by listening to voices within the organization. They are imperative issues for CARRA to concentrate on over the next three years and are represented in many of the strategies in the plan. They include the importance of embracing and advancing diversity, equity, inclusion and accessibility, partnerships and collaborations, and expanding the use of data to better measure impact.
CARRA will be relentless in its efforts to accomplish the outcomes outlined in this strategic plan and to doing everything we can to generate new knowledge and improve the lives of children and their families affected by rheumatic disease.
Achieving Research Excellence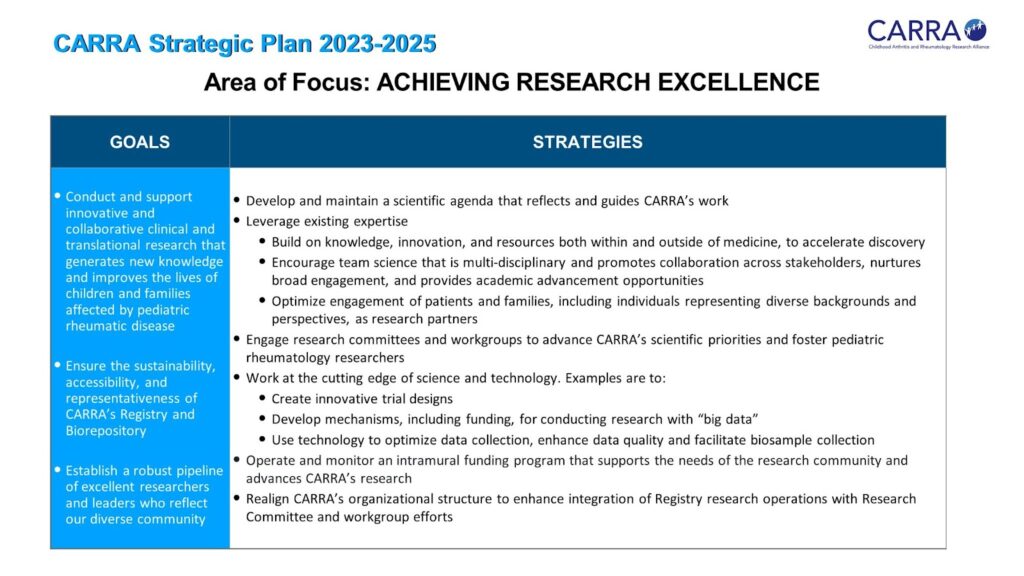 Leveraging Community Engagement
Ensuring Organizational Excellence
Embracing and Advancing Diversity, Equity, Inclusion and Accessibility