THIS WEEK - 1/18/2022

ASM 2022 News & Updates
ABSTRACT SUBMISSION DEADLINE EXTENDED TO JAN. 25
Due to the current COVID-19 surge and associated stresses on CARRA members and investigators, we are extending the Annual Scientific Meeting Abstract deadline to JANUARY 25, 2022.
All recipients of CARRA-Arthritis Foundation grants are required to submit abstracts yearly until the final grant results are presented at CARRA

Anyone may submit an abstract but at least one abstract author must be a current CARRA member

All abstracts will be published in an online supplement to Pediatric Rheumatology, which will be available after the 2022 Annual Scientific Meeting.

All abstracts are required to adhere to the CARRA Abstract Submission Guidelines. Submissions not adhering to these guidelines will not be considered.
Review the Abstract Guidelines before submitting your abstract.
Need to Know
The online event will run May 2 - 3 from 10 a.m. to 5 p.m. ET

Preconference and workgroup meetings will be held in the weeks prior

Schedule and details to come

Abstracts are due Jan. 25. Guidelines
---
2022 CARRA Awards
Recipients will be recognized at ASM 2022. Please help us recognize individuals who've made significant contributions to CARRA and rheumatology research.
Nominate yourself or a colleague for:
CARRA Outstanding Service Award

CARRA Outstanding Research Coordinator Award

CARRA Outstanding Workgroup Leader Award

CARRA Outstanding Patient/Caregiver Service Award

CARRA Early Investigator Award
---
Funding Opportunities
All Spring Cycle Grants (Small, Fellow, Career Development, Implementation Science, ABC)
Application portal opens Feb. 14
Application portal closes March 14, 11:59 CT
Requests for DSSC approval and RROC Letters of Support due Feb. 1

Only applies to proposals intending to utilize CARRA Registry data or proposing the collection of new data/biosamples
Career Development Award and Implementation Science Testing Grant
Letters of Intent due Feb. 14
Advancing Biosample Collection in the CARRA Registry
Requests for TRTC Letters of Support due Feb. 1
---
Registry Opportunities
Registry Associate Role: The application deadline has been extended to Jan. 28
The CARRA Registry Associate role is designed to immerse applicants in the operational, scientific and leadership aspects of the CARRA Registry. Learn skills and gain knowledge that will enrich pediatric rheumatology research and practice. The role includes up to 20% salary effort for one year, with potential for one-year renewal.
Questions? Contact Research Manager Maria Vallejo.
---
Membership Opportunities
DUE JAN. 31

10% off multi-year memberships

Late fees assessed Feb. 1; multi-year discount offer ends

Continue collaborating with your world-class colleagues

Contact Administrative & Membership Manager

Erica Bowring

with questions
---
Updates & Contracts
Your information, including your current institution and business mailing address, must be up-to-date to ensure prompt delivery of research resources and salary support.
---
Education Opportunities
PReS Academy: MAS-sJIA Hybrid Course
March 17-18 | Rome, Italy | 200 €
Subjects include:
sJIA and MAS immunology and pathogenesis

moving from clinical trials to early treatment to treat-to-target

handling of refractory cases

MAS-ILD pathogenesis and management
Expert speakers include CARRA members. Visit the course site for details.
---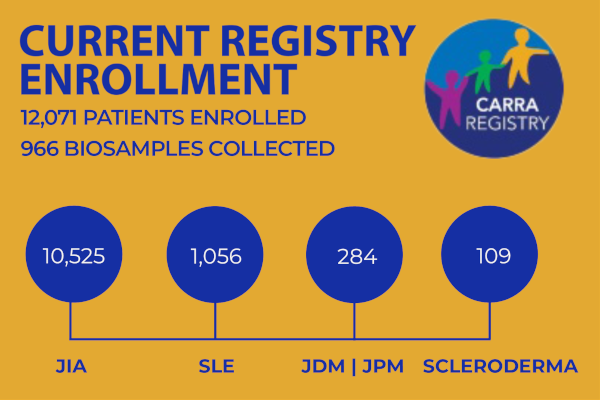 ---
Tell us more Elections Get funding